Sinergise Expands Partnership with Planet to Bring Area Monitoring Services to the World

Sinergise has expanded their partnership with Planet, allowing all Planet customers, developers, and data scientists to leverage the Area Monitoring system to build solutions for monitoring agricultural activities across broad geographic scales. The system enables farmers, businesses, and governments to transform their management practices and report their sustainable impact. Building upon the successful implementation in several EU countries, this new partnership will help extend the reach and coverage of our Area Monitoring system to the entire world.
Area Monitoring System by Sinergise
The widespread availability of multi-temporal Sentinel data, along with advancements in storage, retrieval, processing, and analysis, has enabled the processing of massive amounts of data for environmental monitoring and control. Sinergise has vast experience in EU Common Agriculture Policy (CAP) applications including Land Parcel Identification System (LPIS) and Geo-Spatial Aid Applications (GSAA). Combining this with their world-leading Sentinel hub data hosting and processing platform, and state-of-the-art machine learning research, they developed a generic service for crop monitoring right across Europe – the Area Monitoring System (AMS).
Since 2018, the CAP has been working on a modernizing and greening process, aligning with the EU Green Deal to tackle climate change by adopting remote sensing solutions to support agricultural monitoring. The Area Monitoring system combines public satellite data from the Copernicus program with Planet data to provide "markers" on a field-by-field basis that include detection of bare soil, dates for mowing and harvesting, land cover and crop type. In one common use case, governments and private enterprise require up-to-date information on agriculture to measure and monitor sustainability initiatives at local, regional and global scales.
The radiometric characteristics and multi-temporal richness of Copernicus Sentinel imagery, combined with advances in ML and other supporting techniques, allow for routine monitoring of several important characteristics of agricultural land. Sinergise's system augments these datasets with Planet data, especially in case of monitoring small agricultural land parcels, where better spatial resolution is required, and in cloudy areas, where Planet's higher temporal cadence increases the number of cloud-free images of the parcel.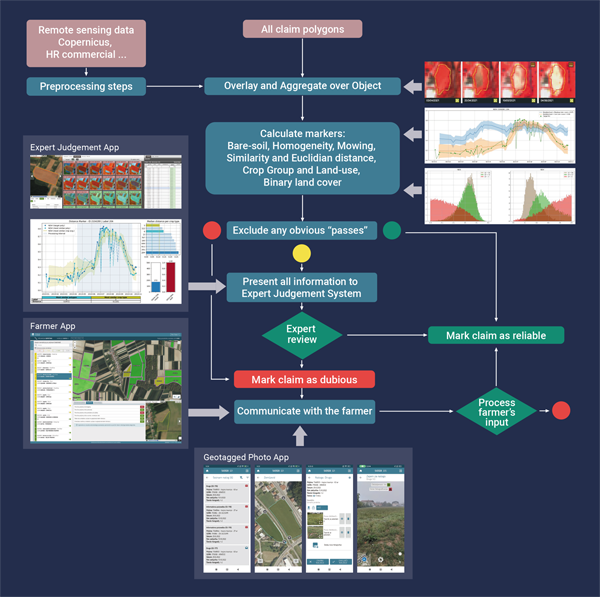 Sinergise has successfully executed several AMS related projects in various countries, including Slovenia, Lithuania, Turkey, Cyprus, Ukraine, and Italy. The use of Sentinel and Planet data, facilitated by massive data processing and analysis by ML and other advanced signal-processing techniques, supports a transition to a wall-to-wall AMS, especially when supported by their Expert Judgement Application and tools for communication with farmers, such as geotagged photos and web app.
The Area Monitoring solution is a generic service for crop monitoring that combines the data sources, processing algorithms and distribution services to allow the governments of EU member states to support CAP measures and agricultural companies like Bayer to monitor agricultural activities across the globe, visualizing and analyzing a variety of data products at an unprecedented speed.
Partnership with Planet Expands Area Monitoring Services Globally
Sinergise is one of Planet's first three certified partners in the new Planet Orbit Certification Program The program showcases providers that have a deep understanding of Planet data and are building innovative solutions, robust applications and services that are ready to scale globally.
Building upon the successful implementation of the Area Monitoring system in several EU countries, this partnership between Sinergise and Planet will help extend its coverage to the entire world and continue to revolutionize the way we monitor agricultural activities across the globe. The system will be a valuable tool for farmers, businesses, and governments, allowing them to access multi-source EO data for processing, analysis, and insight extraction and helping them transform agricultural practices for greater sustainability.
To learn more about the partnership through Planet's Orbit Certification Program, also read Planet's recent blog post.