Global Earth Monitor: Outcome Presentation and Hands-on Session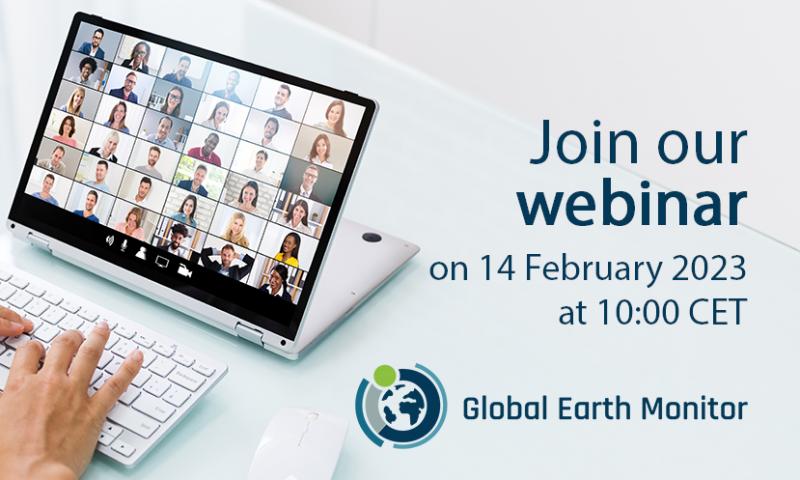 Join the Global Earth Monitor webinar on 14 February 2023! - The H2020 Global Earth Monitoring (GEM) project, which aims to address the challenge of continuously monitoring large areas in a sustainable and cost-effective way, is entering its final phase. We invite you to participate in our webinar organized in collaboration with project partners TomTom, European Union Satellite Centre, Technische Universität München and meteoblue AG to learn all about the project results and follow step-by-step exercises using the resources of GEM.
This event aims to bring together different actors from the field of Earth observation and beyond to present the results of the project (with a special focus on the use case results). Participation is free of charge and open to all interested parties. See the full agenda here.
During the morning session, the EC project officer and the project coordinator will give an overview of GEM and its position in the EO R&I scenario. Afterwards, the project partners will present the results of the pilot project and the audience will have the opportunity to give their feedback on the proposed solutions through interactive surveys, which will be taken into account by the consortium in determining the way forward. The step-by-step exercises in the afternoon will feature the use of GEM resources. The exercises, for which preparation material and requirements will be distributed in advance, are aimed at students, software developers, data scientists, EO developers and anyone interested in the topic.
✍️ Feel free to register for both sessions separately via the links on the official GEM project web page and join us on 14 February 2023 at 10:00 CET.
Project has received funding from European Union's Horizon 2020 Research and Innovation Programme under the Grant Agreement 101004112.