A Success of the CryoHackathon 2023

The first edition of the CryoHackathon, organised by the Early Career Glaciologist Group (EGG) of the International Glaciological Society (IGS), ended successfully on Sunday 19 February 2023. The overall goal of all participants having an exciting weekend of fun and working together on cryosphere-related projects was achieved in a nice, inclusive and respectful atmosphere! We're happy to be a partner and enable the winning team to further develop their idea with the help of Sentinel Hub services.
The format of the hackathon allowed teams of 1 to 5 participants to work on a cryosphere-related project of their choice. The project could be created from scratch, come from the organiser's idea pool, be based on existing projects or even be part of a course project. Participants were allowed to work on anything as long as it was related to the cryosphere. Anyone were more than welcome to participate, and no coding experience was required.
We congratulate to the winning team of the EGG CryoHackathon 2023, who won a 1-year Sentinel Hub Enterprise subscription! The team from University of Alaska Fairbanks and Boise State University studied the particular velocity pattern of Hubbard Glacier in Southeast Alaska. To help the investigation, traces of the glacier terminus from 2017-2022 were drawn using Sentinel and Landsat imagery. At Sinergise and Sentinel Hub Austria, we hope that our services will make it easier for the team to further investigate the behavior of glacial velocity.
About the winning team and their project
"We are a team of five people: Amy Jenson, Annegret Pohle, Jukes Liu, Michael Christoffersen and Victor Devaux-Chupin. Four of us are currently freezing in Fairbanks, Alaska, while Jukes gets a bit more sunlight in Boise, Idaho. Even though we are all in the US we are an international team composed of Americans, Swiss and French." the team vividly described themselves.
They noticed an interesting velocity pattern on the Hubbard glacier, Southeast Alaska. It is a huge calving glacier that displays a double peak of ice surface velocities, one in the middle of Winter and one at the beginning of Summer.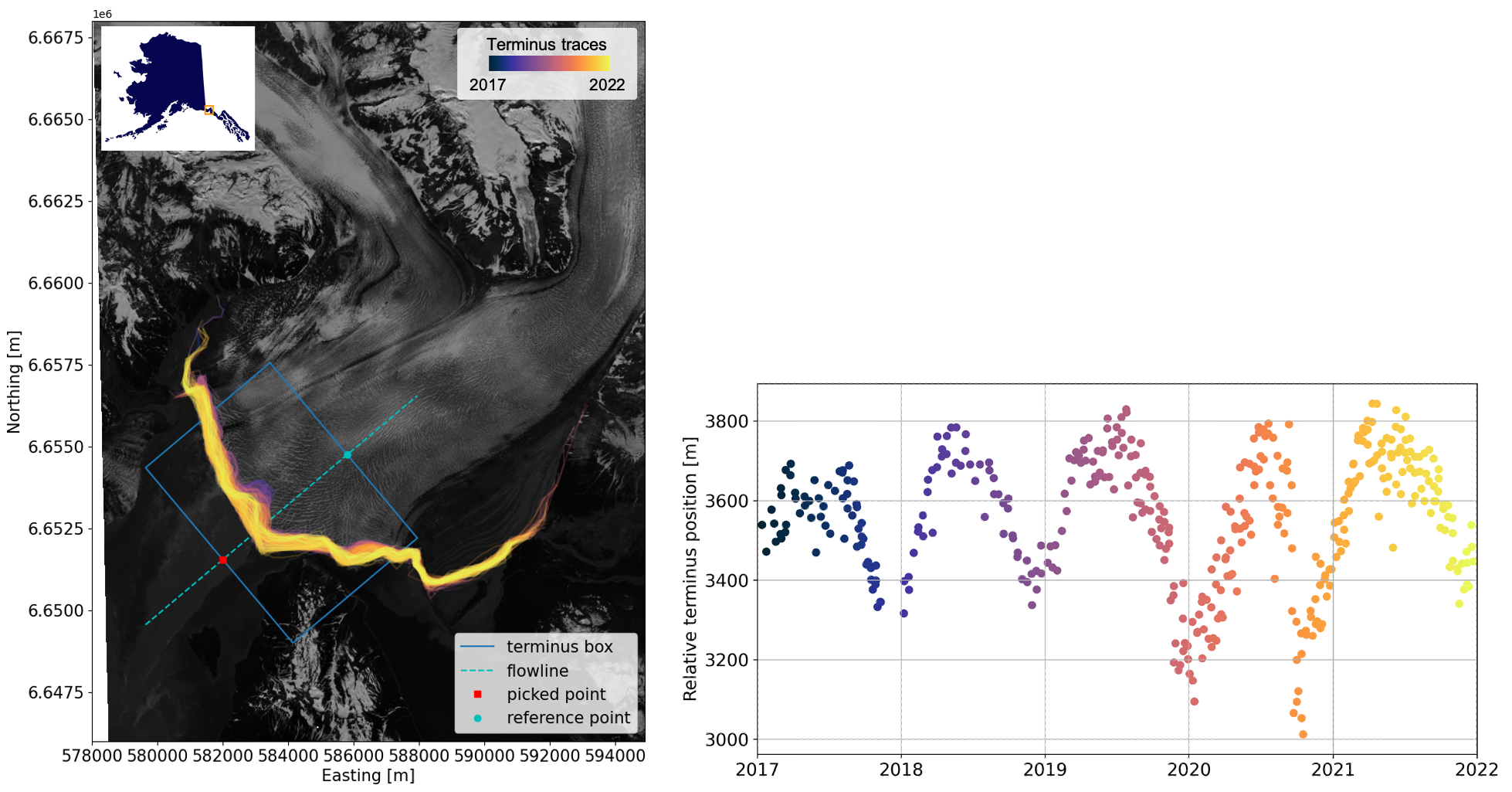 Traces of Hubbard Glacier's terminus from 2017-2022, created with Sentinel-1, Sentinel-2 and Landsat imagery. Fluctuations in the terminus position were automatically extracted along glacier flowlines approximating using the terminus box. The background image is a Sentinel-2 surface reflectance image from 4 July 2022.
Useful links
Organizer's page with more information
Our CryoHackathon 2023 announcement
Sentinel Hub