Living Planet Symposium 2022

Join us at the European Space Agency's Living Planet Symposium on 23–27 May 2022 in Bonn, Germany. This symposium, organised with the support of the German Aerospace Center (DLR), focuses on how Earth observation (EO) contributes to science and society, and how disruptive technologies and actors are changing the traditional EO landscape, which is also creating new opportunities for public and private sector interactions. We look forward to meeting you in Bonn.
As part of the symposium, we will be giving several talks and participating in poster sessions. For more information, please see the links below and visit the LPS22's programme.
Stay tuned for more information about the Euro Data Cube workshop and demo sessions. Dates will be announced in the coming weeks.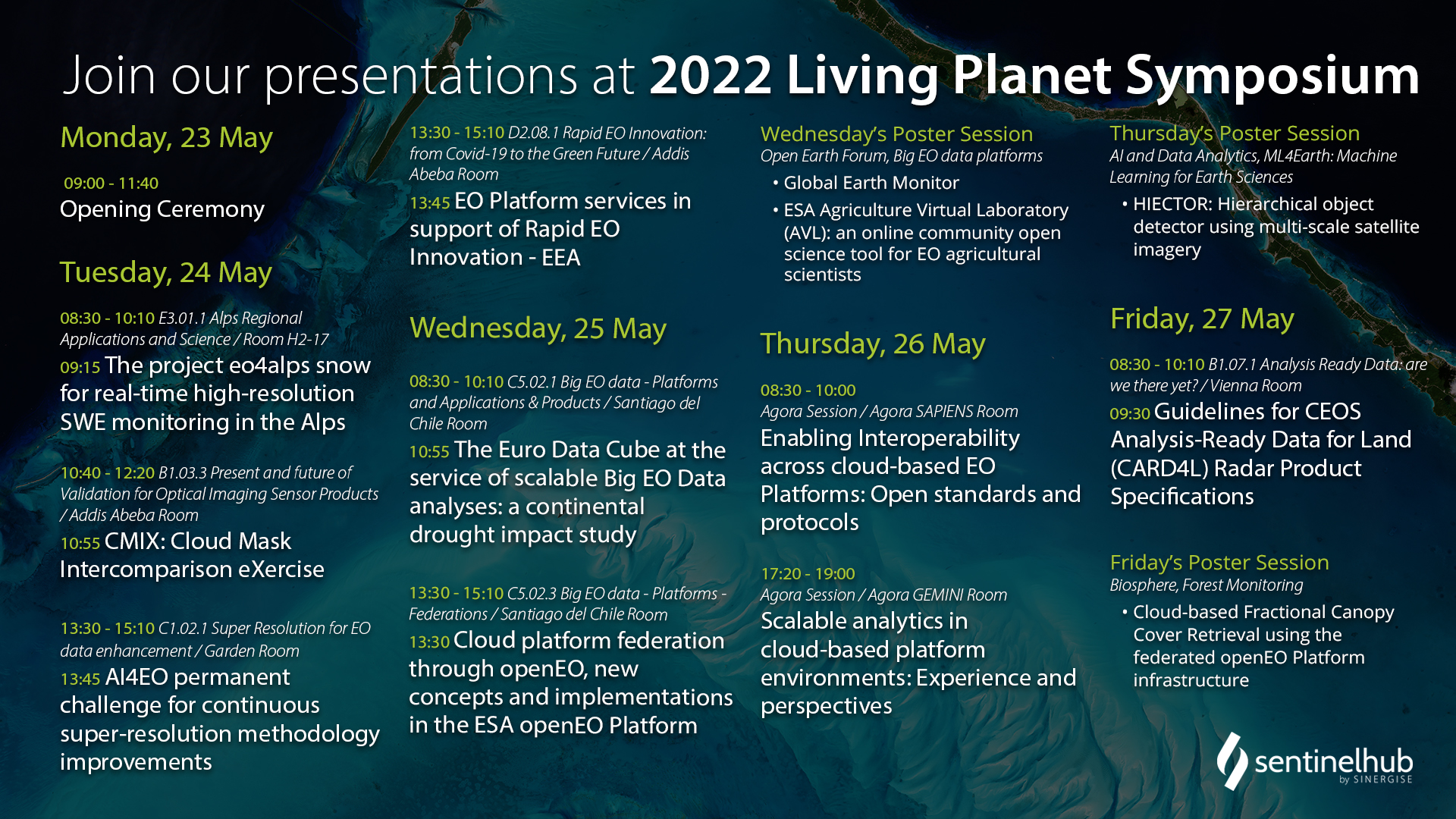 Join Sinergise's presentations, poster sessions and demo activities at #LPS22!
Monday - 23 May 2022
---
09:00 - 11:40
Opening Ceremony
Demos
12:50 - 13:20
Sinergise - EO Browser
Sentinel Hub EO Browser – visualize and download satellite imagery with just a few clicks
14:20 - 14:50
Sinergise - EuroDataCube EDC
ML feature preparation at scale – Land use Land Cover classification and Water level monitoring
Training
12:30 - 14:00
Brockmann Consult/Sinergise - EuroDataCube EDC
Leverage Euro Data Cube services for accessing, analysing and visualising EO data
Tuesday - 24 May 2022
---
Presentations
08:30 - 10:10
E3.01.1 Alps Regional Applications and Science / Room H2-17
09:15 The project eo4alps snow for real-time high-resolution SWE monitoring in the Alps
10:40 - 12:20
B1.03.3 Present and future of Validation for Optical Imaging Sensor Products / Addis Abeba Room
10:55 CMIX: Cloud Mask Intercomparison eXercise
13:30 - 15:10
C1.02.1 Super Resolution for EO data enhancement / Garden Room
13:45 AI4EO permanent challenge for continuous super-resolution methodology improvements
13:30 - 15:10
D2.08.1 Rapid EO Innovation: from Covid-19 to the Green Future / Addis Abeba Room
13:45 EO Platform services in support of Rapid EO Innovation - EEA
Demos
16:00 - 16:30
MobyGIS/EURAC/Sinergise - eo4alps snow
eo4alps snow Browser app
Training
10:30 - 12:00
EODC/Sinergise - openEO Platform / H-1-03
Analysis-Ready Data processing
Other openEO Platform activities
Wednesday – 25 May 2022
---
Presentations
08:30 - 10:10
C5.02.1 Big EO data - Platforms and Applications & Products / Santiago del Chile Room
10:55 The Euro Data Cube at the service of scalable Big EO Data analyses: a continental drought impact study
13:30 - 15:10
C5.02.3 Big EO data - Platforms - Federations / Santiago del Chile Room
13:30 Cloud platform federation through openEO, new concepts and implementations in the ESA openEO Platform
Demos
10:45 - 11:15
MobyGIS/EURAC/Sinergise - eo4alps snow
eo4alps snow Browser app
Networking Event
16:30 - 18:30
OpenEO platform
User consultation Networking Event
Wednesday's Poster Sessions: Open Earth Forum, Big EO data platforms
Global Earth Monitor / Read more!
ESA Agriculture Virtual Laboratory (AVL): an online community open science tool for EO agricultural scientists / Read more!
Thursday - 26 May 2022
---
Agora Sessions
08:30 - 10:00
Agora SAPIENS Room
Enabling Interoperability across cloud-based EO Platforms: Open standards and protocols
17:20 - 19:00
Agora GEMINI Room
Scalable analytics in cloud-based platform environments: Experience and perspectives
Demos
10:40 - 11:10
MobyGIS/EURAC/Sinergise - eo4alps snow
eo4alps snow Browser app
Thursday's Poster Session: AI and Data Analytics, ML4Earth: Machine Learning for Earth Sciences
HIECTOR: Hierarchical object detector using multi-scale satellite imagery / Read more!
Friday – 27 May 2022
---
Presentation
08:30 - 10:10
B1.07.1 Analysis Ready Data: are we there yet? / Vienna Room
09:30 Guidelines for CEOS Analysis-Ready Data for Land (CARD4L) Radar Product Specifications
Friday's Poster Session: Biosphere, Forest Monitoring
Cloud-based Forest Change and Fractional Canopy Cover Retrieval using the federated openEO Platform infrastructure / Read more!